Published on Cardplayerlifestyle
September 18, 2022
Digital Poker Table, developed by Galshan Digital from Las Vegas, was envisioned as the next step in the evolution of live poker. Offering the ability to host cash games and tournaments without the need for physical cards, chips, or dealers, it removes many of the usual headaches game organizers have to deal with. The product allows players to enjoy more hands per hour and more poker action, saving time that would be spent on arguments over chopped pots, misdeals, and players "going south."
We've covered this Digital Poker Table in an article four years ago, so if you want to find out more about the product, be sure to check out that post. What we'll focus on in this article is the latest functionality added to the product: Live broadcast (already used on Twitch and YouTube live).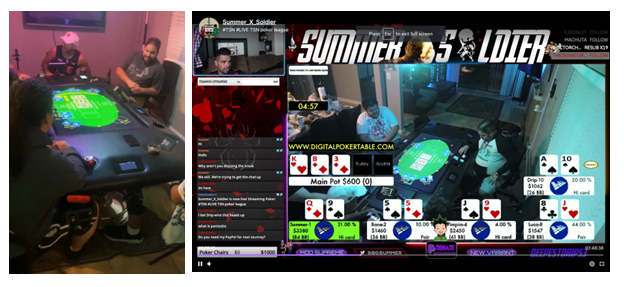 Poker streaming has become quite popular in recent years, and you can have your pick between players streaming their online endeavors and expensive streams hosted by land-based poker rooms. Digital Poker Table seeks to become an alternative for the latter, providing a simple and affordable way to stream live games without spending a fortune on production costs.
Whether it is a home game between friends or an open game in a casino, anyone can set things up and have the game streamed live on their Twitch channel. The information from the table, including players' hole cards, chip stacks, and actions, is displayed in real-time or with a delay set up by the host.
What Does a Digital Poker Table Twitch Stream Look Like?
When you think about live poker streams, you probably have an image in your head created by the likes of Hustler Live, Live at the Bike or Triton Poker. These are high-end, expensive streams that require a lot of money and special equipment, such as RFID cards and readers, special software, and much more.
Digital Poker Table takes care of all these technicalities. Once connected to a computer, it will transfer all this information onto the screen, showing everything required to follow the action:
Player name and chip stack
Hole cards
Actions
Pot size
Community cards
Win percentages
Of course, the host still needs to take care of things such as web cameras and microphones, but Digital Poker Table makes it easy to add these aspects to the stream and connect them all together for the full streaming experience. Video and audio quality will depend on how much you're willing to spend on the additional equipment, but the product itself makes the integration easy from the technical aspect.
Cheating is one of the biggest risks of running a live-streamed game, but these fears have been addressed quite well. The stream host can set up a delay however they want, and the hole card information is only transmitted after the delay elapses. All players at the table are regularly warned that the game is being broadcast to increase safety.
Who Is This Functionality Aimed At?
While the ability to set up a live poker stream seems interesting on the overall, the question is, who is the primary audience of this Digital Poker Table feature? Large live poker rooms already have their productions, and these streams can hardly compete with all the bells and whistles such streams bring to the table.
However, the poker world is quite colorful, and there is always room for innovation and new ideas.
Galshan Digital believes that there are those who'd like to stream their home poker games but don't have the ability to set up full-scale productions. For them, Digital Poker Table represents an affordable and simple solution.
In fact, the whole concept was introduced at the request of a Twitch streamer going by 'Summer_X_Soldier,' who wanted to live-stream his home games on his Twitch channel and doing so only made sense with the ability to allow viewers to see the hole cards and other info. Galshan Digital delivered, and there have already been a few streams on this channel.
While the product is still not perfect, there are constant updates and changes based on the feedback, and with each new stream, things are looking better and better.
In addition to home games, Digital Poker Table gives smaller card rooms and casinos a chance to get their streams out there without spending a fortune. If you're looking to improve your game, record a full session and get a professional coach to review your action and help you improve your game. In today's digital world, having an online presence is quite important, and this could be a great way for these smaller rooms to let people know about the action and increase their foot traffic. It's a way for "wannabees" in the poker / entertainment world to break the barrier and quickly build a following. Some people have interesting characters in their games, and with Twitch they can now transform their unknown game into a potential revenue making machine.
What Comes Next?
The idea of an out-of-the-box streaming solution for live games could start a small revolution in this segment. Digital Poker Table gives almost everyone a chance to have their games streamed for the audience without needing a big team or a huge budget.
Galshan Digital has two agreements with companies in Canada and Korea to manufacture Digital Game Tables with Galshan Digital technology, we expect this trend of "white labels" to grow in the next few years.
There are still some wrinkles that need ironing, but Galshan Digital seems very committed to delivering what his customers want and need. So, I wouldn't be surprised if we start seeing a few live streams powered by Digital Poker Table popping up in the very near future.